Sukup Steel Buildings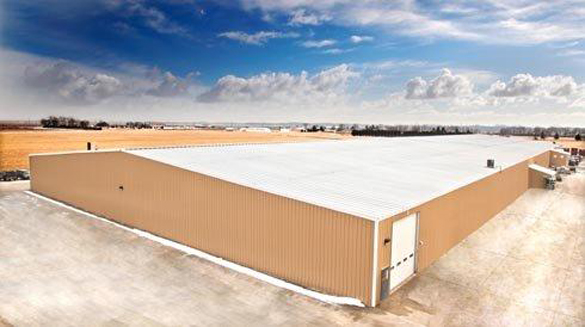 The open design of Sukup Ag and Industrial Buildings allows you to adapt the space to your specific needs.
Need room to fold out your planter to check the row units? Want to add an office? Or a bay for your combine? You can have it with a Sukup Building.
Framework
Sukup's sturdy, rigid frame structure allows plenty of open area to house your machinery.
I-Beam structural steel used in corners and end wall columns for additional strength.
Clear span up to 200′ for large open areas.
Multi-span construction available to reduce cost.
Structural framing available in either red or gray oxide primer.
Pre-punched purlins and girts ensure a proper fit.
Pre-punching also speeds installation for lower construction costs.
Purlins and girts are galvanized for long life.
Framed openings for standard and oversized doors.
Wall Panels
Sukup wall and roof panels are made from Galvalume+ AZ-55 substrate for extreme corrosion resistance.
Twelve exterior and trim colors to choose from.
Exterior Wall Panels
26 gauge
36" coverage
1-1/4" rib height
12" on center
50 grade
Interior Liner Panels
29 gauge
36" coverage
¾" rib height
6" on center
50 grade Galvalume+ pre-painted Polar White (only).
Roof Panels
Standing Seam Roof
The seams on Sukup standing seam roofs are mechanically-rolled in the field to create a 360o Pittsburgh double-lock seam.
Creates a tight, durable, virtually leak-proof seal.
Available in Galvalume+ and Polar White.
Movable roof clips allow the roof sheets to expand and contract with temperature changes.
Allowing for expansion and contraction prevents stress on the roof components that could make the roof more prone to leaks and wind damage.
Screw-Down Roof
This style of roof is economical and simple to install.
26 gauge
36″ coverage
1-1/2″ rib height
12″ on center
50 grade
Available in Galvalume+ and all standard Sukup colors.
Wide selection of steel-framed, easy-to-install doors and windows.
Wainscot wall panels to accent the outside of your building.
Interior partition walls to section off your building.
Commercial grade fiberglass insulation systems (up to R-45 in the roof!)
Eave and gable extensions and canopies
Gutters and downspouts
Complete trim packages in all of Sukup's standard colors.
| | |
| --- | --- |
| | We believe that with proper maintenance our T-Ls will run until they're 50 years old. |